Deals Gap Rotary Rally 2014 (10th Year Anniversary)
I've been going to Deals Gap Rotary Rally (Commonly known as DGRR) since 2010 (Well 5 out of the last 6 years). So I'm no stranger to the event. For those who have yet had the pleasure of attending, it is a must. It is one of the greatest rotary events held yearly. For many, such as myself, it marks the beginning of the car season as all the attendee's are in a mad dash to finishing up their winter mods for the event!
DGRR is organized by Phil Sohn and held in beautiful Bryson City, North Carolina. It falls on the last weekend of April and spans from Friday-Sunday. The typical agenda is a meet and greet on Friday, Car show, cruises, and Raffle on Saturday, and au revoir on Sunday. (Somewhere in between is the traditional "Fontana Dam Pic" (I still never know when it is...). Oh, and how could I forget one of the main attractions, the amazing roads to drive on! There is the Tail of the Dragon which is a nice mid-speed road filled with twisties, tight turns and banks (318 turns in 11 miles!) and the Cherohala Skyline, which is a high(er)-speed, longgg swooping turn road along the mountainside with a beautiful view. Here's the break down of the event!
So my trip began on Wednesday night as I set off from Central NJ for my lovely 11 hour drive... As a Veteran, you know it's better to arrive on Thursday (See more info at the bottom)
I took Thursday to unwind and hit the dragon in my monstrous 20B Dodge ram 1500 (just kidding). Just as I enter route 129 I was greeted with a nice Semi truck, luckily he waved me ahead. But, as I was sh*tting bricks since he was crossing lanes on every turn, I ended up escorting him warning people ahead. (I must applaud this guy for making it through..) My rear view mirror sight:
Friday
After coming back from lunch I met my Chauffeur Ricky (haha). He was also staying at the Microtel and was outside washing his soon to be Best of show FD. After chatting with him for a while, and being his first time, I soon became his tour guide. We then headed off to Fontana Dam for the Damn dam picture and got there just in time.
A few gem's chilling in the lot.
After the group picture, people had the option to either wander about, or go across the Dam and drive back for pictures and video footage. Here are my lousy photos. If there are no pics of your car, you were probably driving to fast.
Leaving the lot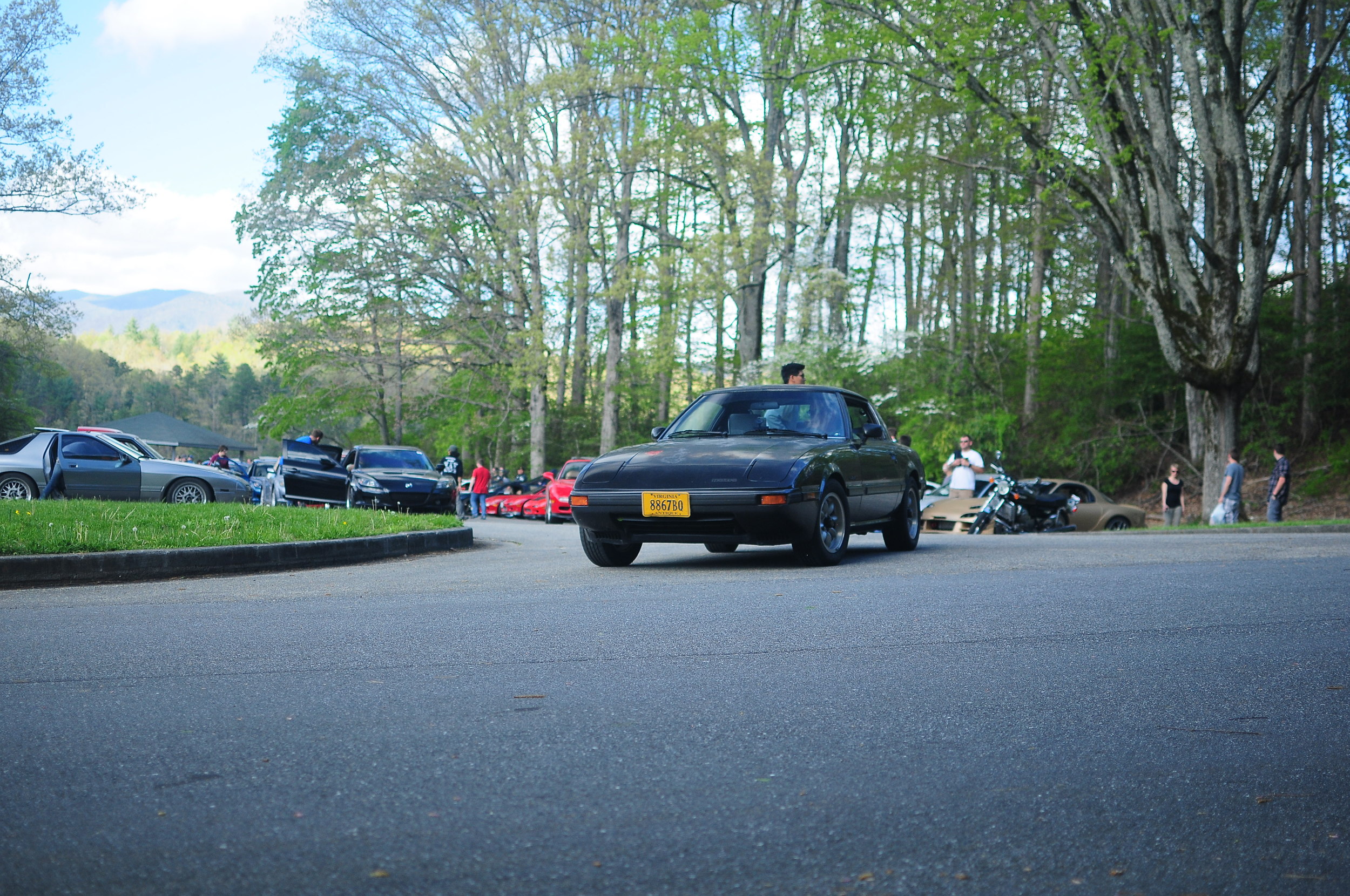 Rollings- Leaving the Dam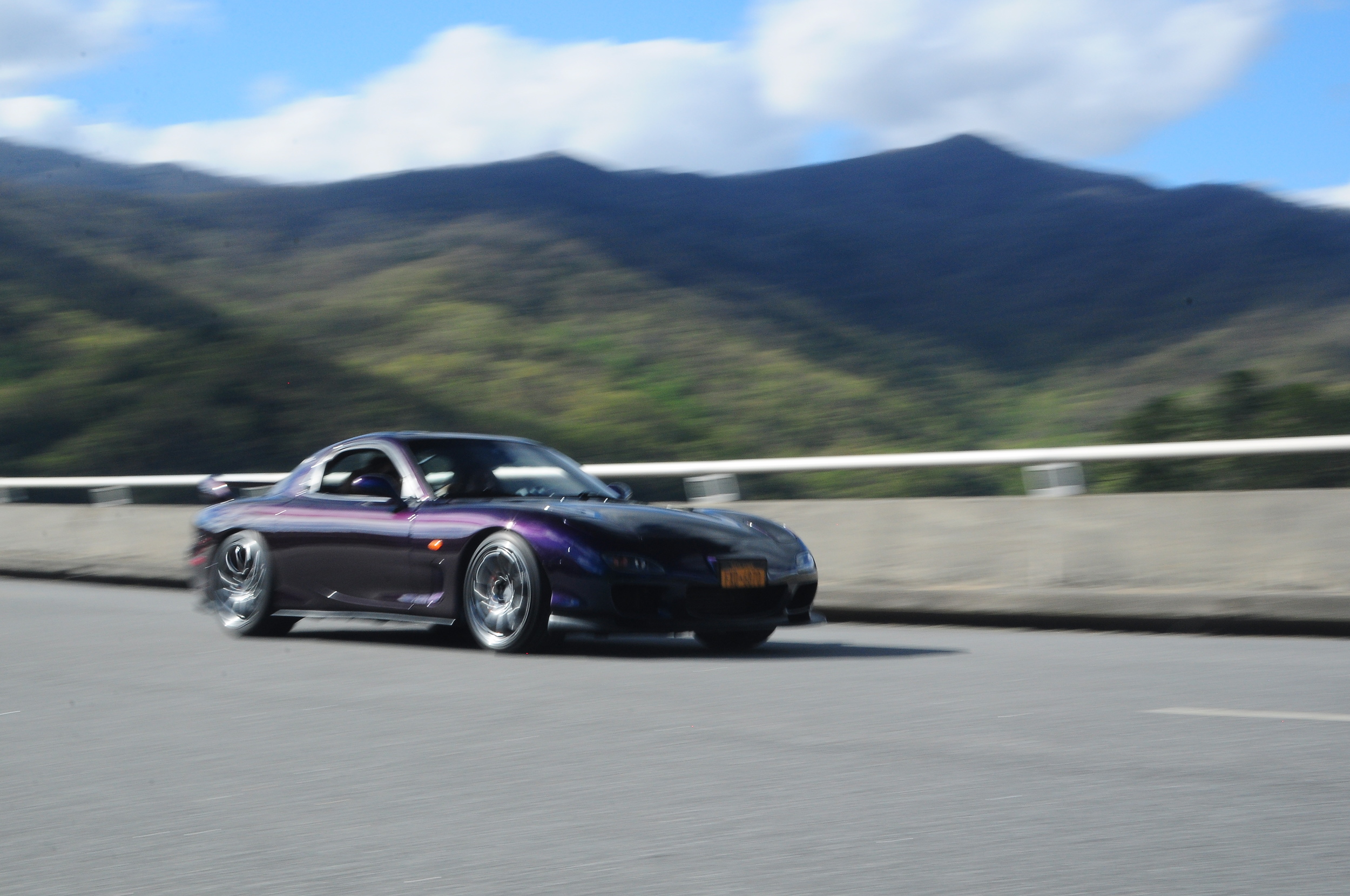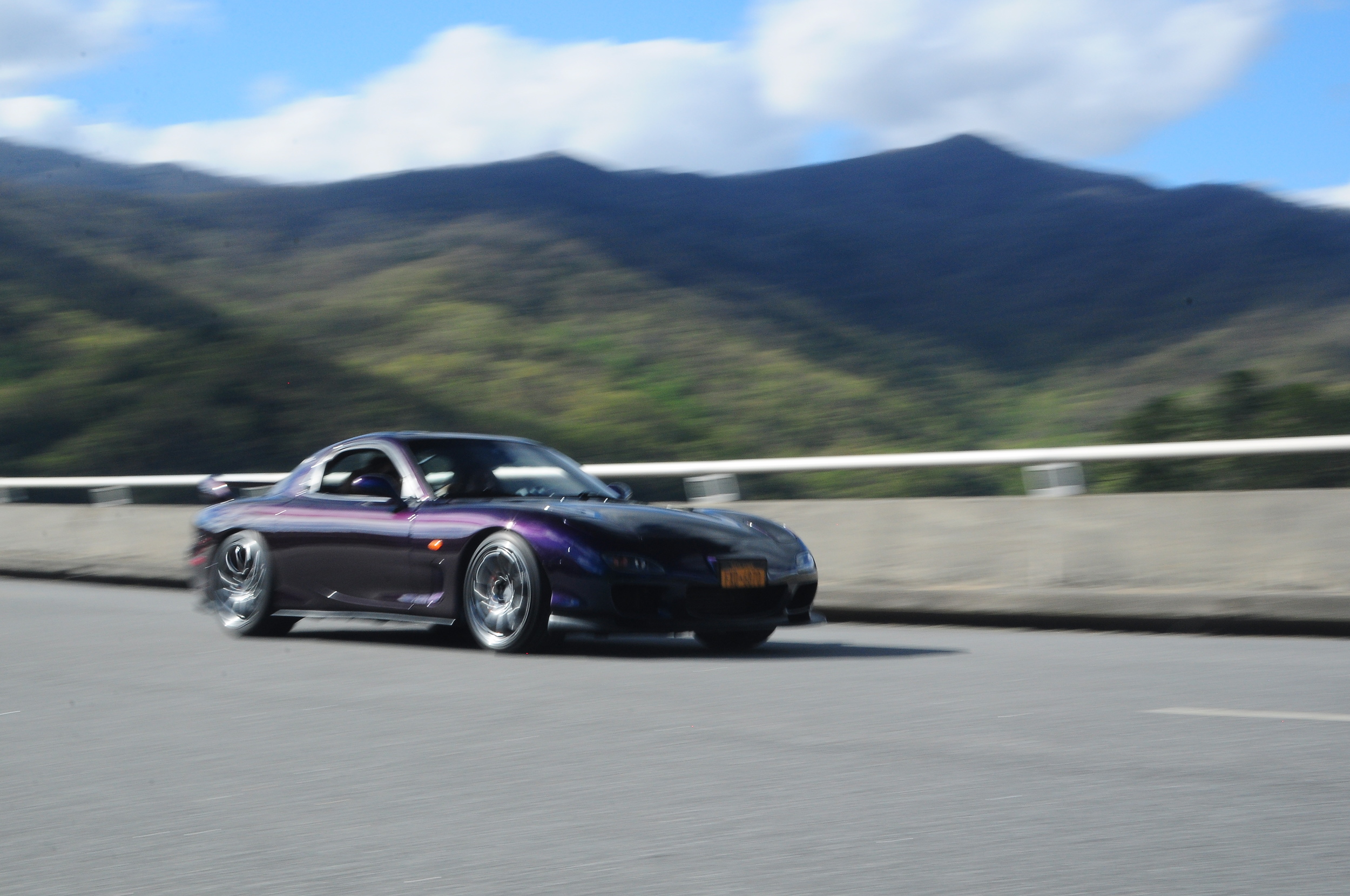 After the masses left, it was time to aboard my chariot. Who can complain getting driven around in this?! =)
En route to slay some Dragons!!
By the time we headed back, night had fallen. We grabbed some dinner at Jimmy Mac's (more info below) and then headed back to the hotel which was like a mini car meet in the parking lot. That's when I met Josh, and his FD with locking brakes... What would a rotary meet be without one car having issues?? .... and some bloody knuckles? (Scott's bloody knuckle as he tried helping)
Saturday
Car show! As I was pretty busy at the booth, I didn't get to take many pictures. These are a mixture from the car show and parking lot through out the day. **P.S. Thank you to everyone who stopped by the Bubble Tech Booth!
Like I said, Whats a Rotary meet without someone working on their car!?
The rest of the day consisted of meeting a ton of new people and catching up with some old friends. DGRR is definitely one of my most favorite events of the year. It's more then just cars, it's about the people you meet who share the same passion as you do. We are a dying breed and its events/meets like this that keeps the bond in our community strong. So start saving your vacation days, leave your calenders blank, and plan to make it out next year!
Tips if you attend!
As a veteran, I no longer make the mistake of arriving on Friday, amped up on adrenaline, fueled on two 8 hour energy's and sleep deprived. The last thing you want to do is jumping right into the event after a torturous drive, it's a great way to burn yourself out and ruin your trip. I highly recommend arriving on Thursday to give yourself sometime to unwind, it will be a much, much more enjoyable event.

As for places to stay, the two most popular options are the Microtel Inn or a Cabin at Nantahala Village. Nantahala Village cabins are awesome, especially if you're going in a group. When you split the rates between parties it's much more cost friendly. However, if you're going solo, I recommend the Microtel Inn. Although the pricier option, the Microtel parking lot is essentially a car meet in itself as everyone is always coming in and out. (Also you have awesome local restaurants within 5 minutes vs the 15+min drive from the cabins). It will also allow you to meet people vs if you're staying in a cabin, you are leaving looking for people to meet (lol).
 
Must eat places in Bryson City!
The BEST restaurant in Bryson City, Jimmy Mac's. (Best Cajun Catfish Sandwich I've ever had in my life)
Guayabitos, Local Mexican Food. They have the best chips and salsa I've ever had by far. (Warning they're a bit spicy!) Good food & good prices.